Our Curriculum
Learn what subjects are on offer.
Educating for the future
The learning journey at Penola honours the developmental stages in a student's life. Based on leading educational research and the best of today's technologies, we prepare students for the future by teaching them how to think critically and creatively, how to communicate effectively and how to lead and work both independently and collaboratively.
Educating for the future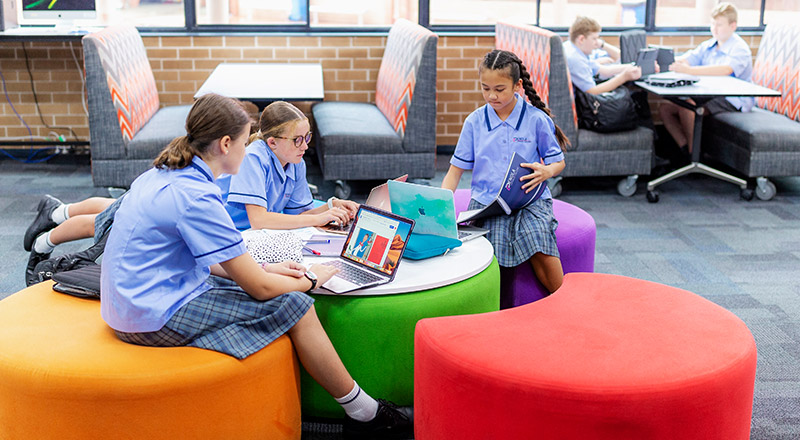 Religious Education
As a Catholic school we also have a strong religious dimension that runs through all the KLAs and is also formally recognised as the KLA of Religious Education.
Penola students take part in formal Religious Education every day, based on the new Catholic Schools Parramatta Diocese curriculum that is relevant to our students and to the world they live in.
Religious Education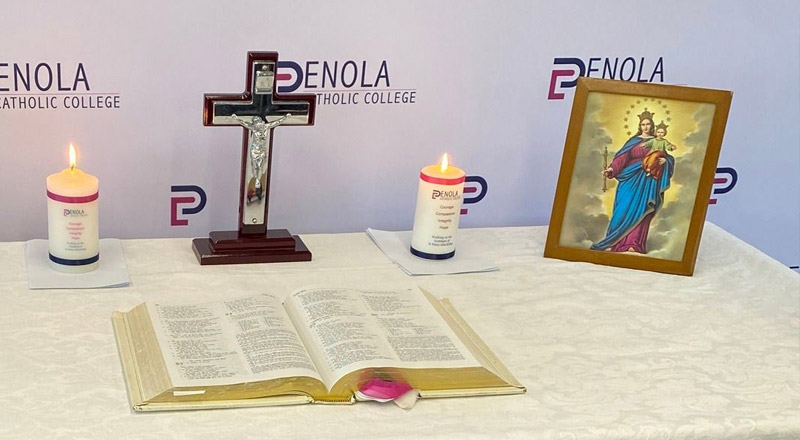 Penola Catholic College follows the curriculum approved by the Education Standards Authority (NESA) covering all key learning areas. We also have a range of elective courses to suit students at all ability levels.
The Key Learning Areas (KLAs)
English
ENGLISH AS DYNAMIC LEARNING EXPERIENCES
Advanced, Standard and Extension
The English Faculty at Penola Catholic College aims to create dynamic and meaningful learning experiences for students across all grades, and to cater to the various strengths of all students. Homework Help is available to students once a week.
We have a focus on the new textual concept framework, and all of our teaching units are based around specific textual concepts that will help to build student capacity in critical thinking and allow for individual success in both the HSC and beyond. In our Stage 4 and 5 classes, we are passionate about providing students choice in what they do to engage them in the learning. To achieve this we offer students a choice of the novels that they will read in class, so that they can choose something that is more suitable to both their own interests and their ability level. We are also in the process of introducing a reading enrichment program which aims to target students at their reading level and help to push them to a higher level of reading achievement.
The English Faculty are committed to offering students opportunities to improve their communication skills, such as writing competitions like 'Write a Book in A Day', debating and public speaking. In recent years, we have had many successes in all of these pursuits.
Our assessment focuses on formative assessment in Years 7-9, which means that all learning tasks are an opportunity for students to show their skills. In the junior years (Years 7-9), our focus is not on high stakes assessment. We aim to have students craft and re-craft their work, utilising peer and teacher feedback to enable them to produce their best work and for their grade achievement to be a more accurate reflection of their overall capabilities as an English student and to help them achieve excellent learning gain as they finely tune their reading and writing skills for senior schooling.
English is a compulsory subject throughout secondary schooling in NSW. In Stage 6, we are able to offer students five strands of English to allow them the best opportunity for challenge and success. These options are: English Studies, English (Standard), English (Advanced), Extension I and Extension II English (Year 12 only).
Mathematics
MATHEMATICS AS MEANINGFUL LEARNING OPPORTUNITIES
Extension and General
The Mathematics faculty at Penola Catholic College embraces contemporary learning with the goal of providing students with the skills for the 21st century. We employ innovative strategies to engage learners and empower them to develop their enterprise skills. Students studying mathematics are provided with a range of NESA approved courses from Years 7 to 12 run by specialised mathematics teachers. In Years 7 and 8, students are engaged in mixed ability classes following the Stage 4 approved course.
In Years 9 and 10, students are provided with streamed class groupings that learn in the three traditional NESA approved pathways of study, Stage 5.1, Stage 5.2 and Stage 5.3. This is essential in allowing all students to access the curriculum at their level. Further to this, selected students have also been invited to participate in the innovative STEM program which engages its learners in authentic and real world hand-on activities, investigations and projects. Year 11 and 12 students are offered the full range of Mathematics courses for senior study, including Mathematics Standard, Mathematics, Mathematics Extension I and Mathematics Extension II.
To provide our students with first class contemporary learning we:
enhance the numeracy skills of all our students with a range of activities. We provide regular homework, extension work, and acceleration for appropriate students

offer maths help to students of varying abilities at our homework help

develop and use specific EM4 designed lessons to meet the needs of a wider range of student abilities. This is achieved through open-ended tasks, meaningful games, puzzles and real-life investigation activities

offer the EMU program to provide intervention and confidence building for our more vulnerable students in Year 7 who are at risk of further disengagement due to low numerical understanding

employ specific literacy activities such as: shared reading, 'think, pair, share' and written reflections.
develop student's organisational skills and their self-regulation of learning through the use of high impact learning strategies such as providing learning intentions and success criteria in every learning experience
provide students with feedback on their learning with regular bookmarking, allocation of Student Learning Performance Grade every 5 weeks and a variety of engaging assessment tasks in all stages
engage students in NAPLAN specific targets for students to develop their confidence and skill in solving problems in a range of contexts. This is crucial for providing students with first class preparation for gaining the national minimum standard credentials
Science
SCIENCE AS AN INTERDISCIPLINARY APPROACH
Biology, Chemistry, Earth and Environmental Science, Physics
The Science faculty of Penola Catholic College delivers Science in six state-of-the-art laboratories with passionate and experienced staff. All Stage 6 Science courses are offered at the completion of the Stage 5 course.
Biology
Chemistry
Physics
Earth and Environmental Science
Investigating Science
The aim of the faculty is to prepare students to face and thrive in the ever changing landscape of the world of Science. It is imperative that students are capable and confident independent 'thinkers' to face the challenges that await them in the Sciences.
The Science labs at Penola are vibrant learning environments, where students are challenged to learn about the world around them and become socially conscious members of the community who are well equipped to respond to issues and problems, with an adequate level of reasoned scientific understanding and literacy.
STEM (Science, Technology, Engineering and Mathematics) in an interdisciplinary approach that is core to the national curriculum and has been embedded into the delivery and assessment of the faculty and the College for the past two years and will continue to challenge students in the future.
Human Society and its Environment (HSIE)
HUMAN SOCIETY AND ITS ENVIRONMENT AS AN INTERCONNECTED WORLD
Business Studies, History, Geography, Legal Studies and Society & Culture
Students in Years 7-10 complete one semester of History and one semester of Geography each year. They learn History and Geography skills in Year 7 that will be built upon in subsequent years. Stage 4 History covers Ancient Egypt, Ancient China, Medieval Europe and Colonisation. In Geography students will explore Landscapes and Landforms, Interconnectedness, Water in the World, and Place and Liveability. Students' activities include making an Egyptian artefact and participating in a Medieval Day, and a Geography field work excursion. Subject based, and cross curricular Project Based Learning (PBL) is used across Stage 4 History and Geography.
In Stage 5, students study the topics Making a Better World: Movement of Peoples, Australians at War: World Wars I and II, Rights and Freedoms (1945-Present), and Popular Culture. In Geography, they will study Sustainable Biomes and Changing Places as well as Environmental change and Management, and Human Wellbeing. Student activities include planning a new housing development, and visiting Penrith Lakes for fieldwork experience.
Teachers on these subjects are specialists in their fields, with many years experience. Where appropriate, seminars, site studies and university lecture days are included during term time, and students are given many opportunities to attend holiday revision sessions with their teachers prior to major exams, and help sessions one afternoon a week at the school.
Personal Development, Health, and Physical Education (PDHPE)
PERSONAL DEVELOPMENT, HEALTH, AND PHYSICAL EDUCATION AS A UNITED APPROACH
Community & Family Studies, Exploring Early Childhood, PDHPE and Physical Activity and Sport Studies (PASS)
The Personal Development, Health, and Physical Education curriculum at Penola Catholic College engages students in a number of key learning concepts developed from the relationship between physical, emotional, mental, social and spiritual health. Students are equipped with the knowledge and skills that they need to make lifelong positive health decisions and to understand how to improve or maintain their wellbeing.
Students are provided with the movement skills and knowledge to be fit for the future. Fitness testing and goal setting is ongoing and students have access to tailored fitness programs designed to help them improve their physical capacities and meet their fitness goals.
STAGE 4 (YEARS 7 AND 8)
Our Year 7 and Year 8 students learn to develop an understanding of well being, drugs, changes during adolescence, spirituality, relationships, road safety, problem solving and decision making skills, health promotion, mental health, first aid and lifesaving, nutrition and goal setting.
Practical activities include swim and lifesaving, dance, gymnastics, Olympic sports, fitness testing, functional fitness activities and team sports. Practical lessons for years 7-10 students involve a movement focus as well as incorporating games based units and activities. We aim to cultivate not just an understanding of what a healthy lifestyle looks like but a love and passion for physical activity. One of the key tenets of this is to expose students to as many different modes of fitness and sports so that they may find the one that is right for them and then embrace it is part of their lifestyle.
STAGE 5 (YEARS 9 AND 10)
In Year 9 and Year 10 students participate in the mandatory PDHPE course and can select the elective subject Physical Activity and Sports Studies. This subject is a must for students who love their sport and fitness and provides an excellent grounding for those considering a career in the health, sports and fitness industry. Topics covered include anatomy and physiology, sports medicine, sports coaching, sports nutrition, acquisition of sports skill and fitness development.
The practical component of this course whilst incorporating a raft of team sports and fitness activities also focuses on leadership in team sports, coaching in practice and skill analysis. In PDHPE, throughout the year students are also given the option of participating in functional fitness circuit classes during practical lessons. Students are also introduced to yoga and pilates to improve mobility and core strength.
STAGE 6 (YEARS 11 AND 12)
Penola Catholic College offers four PDHPE courses in Years 11 and 12, Personal Development, Health and Physical Education; Community and Family Studies; Exploring Early Childhood; and Sport Lifestyle and Recreation.
Our Stage 6 students are extended by these rigorous and challenging subjects which provide the opportunity for them to explore and develop their passion for this field of study. Students undertaking these stage 6 subjects find that they provide a good grounding for further studies or careers in areas such as personal training, human movement, sports science, sports coaching, strength and conditioning, physiotherapy, nursing, health education, community work, child care and community health.
PDHPE INCURSIONS AND EXCURSIONS
PDHPE students are exposed to a variety of engaging and challenging extracurricular opportunities which further develop their knowledge and skills including:
Year 7 Swimming and Lifesaving
Year 9 PASS Surf Safety at Long Reef Beach
Year 10 Road Safety Year 11 First Aid Accreditation
Year 12 Periodisation Planning incursion by Erin McCleave.
Languages Other Than English (LOTE)
LANGUAGES AS VALUABLE CULTURAL INSIGHTS
Japanese, Spanish
At Penola we believe that the study of Japanese gives access to the language and culture of one of Asia's most important societies. We believe it opens the door and provides pathways for students to engage with not only Australia's place in Asia but also her neighbours. Through the study of the Japanese language, history and cultural aspects, students gain valuable perspectives on art, music, customs, beliefs and the ways of thinking of Japanese people. Not only that, but they also gain insight into their own personal world and that of Australia.
STAGE 4 YEAR 7 LANGUAGES
Currently, only our Year 7 students study the 100 hour Stage 4 Mandatory Japanese course. However, there are many opportunities throughout the year for all Penola students to experience learning about the language and culture of Japan. In March, August and December, Penola hosts students from Japan as part of Penola's commitment to provide pathways for students to broaden their horizons.
STAGE 6 YEAR 12 LANGUAGES
Penola offers a 200 hour Beginners Japanese course for students in Year 11 and Year 12. The Beginners course is aimed at students who are beginning their studies of Japanese in Stage 6. Students who study this course should have little to no prior knowledge apart from the study of 100 hours or less throughout Stage 4 or 5.
Creative and Performing Arts (CAPA)
CREATIVE ARTS AS A HOLISTIC EXPERIENCE
Drama, Music and Visual Arts
The Creative and Performing Arts Department offers a broad range of creative experiences in the fields of Music, Visual Arts, Drama, Photographic & Digital Media and Dance. Our aim is to increasingly broaden the students' exposure to expressive forms across each stage of the curriculum.
In the performance-based subjects, Music, Drama and Dance, the aim is for our students to become independent, confident performers with the capacity to engage in collaborative and composition experiences. These experiences are supplemented by a large variety of CAPTIVATE programs that are offered throughout the year. Penola has recently been the Dance HUB and has hosted a number of Drama and Music workshops in order to give our students the opportunity to work with students from other schools in collaborating on performances and improving technique.
In the creative-based subjects of Photographic and Digital Media, and Visual Arts, students are exposed to a range of material experiences as they respond to their world, their beliefs, raise issues and make observations. Our collaboration with internationally exhibited street-artist Johnny Romeo has allowed students to improve the quality of their work through a mentoring program designed to assist students who aspire to succeed in the HSC and beyond.
DANCE, DRAMA AND MUSIC
Students in Year 7 and Year 8 Music learn to play the guitar, keyboard and the drums whilst studying Musical Identity and Popular Music. We have a great focus on Performance in Stage 4, encouraging students to perform in small groups and as individuals and explore a range of instruments by reading traditional and non-traditional notation methods.
Years 9 and 10 Music students engage in composition, aural, musicology and performance under a variety of genres including Australian Music, Rock, Popular, Classical, Jazz, Music and Technology, Music of a Culture, Music for Large and Small Ensembles and Music for Radio, Film, Television and Multimedia. Year 9 and 10 Drama students learn the elements of appreciation, theatre, composition and performance in a variety of contexts, styles and genres.
Year 11 and 12 Music caters for individual student needs by exploring the major components of aural, performance, composition and musicology within genres that appeal to each student's interests. Years 11 and 12 Dance and Drama continue the exploration of theatre, appreciation, performance and composition both individually and within an ensemble. Senior students are given a number of opportunities to showcase their works at performance evenings throughout the year.
All music subjects are complimented by a peripatetic music program, which allows students to have group or private lessons on their chosen instrument within the school.
VISUAL ARTS AND PHOTOGRAPHY
Students in Years 7 and 8 Visual Arts are exposed to a range of materials in drawing, painting and ceramic media. In Year 7, students focus on their 'identity' through self-portraiture, they then move onto forging a connection with their local area through landscape drawing and painting.
In Years 9 and 10, students work in drawing and painting again, but with a focus on extending and refining their techniques and material usage. Students gain an exposure to photography, ceramics, jewellery, printmaking and sculpture. Students lean on a range of subject matter to master their materials. Landscape, Architecture and the Human Body become the inspiration for their Art-making and their Critical and Historical Studies.
Our senior students continue the Visual Arts Course with increasing levels of expertise in their material usage and independence in their Art-making concepts. By the HSC year each student is able to manage the decision making and skill entailed in producing a Body of Artworks. Senior students are also mentored by Johnny Romeo in order to get the most out of their major work.
Photographic and Digital Media students work across various forms of photography in Stage 5. The programs allow for students to work with film, the darkroom, digital photography and potentially videography. Subject matter is broad and crosses into areas of design and the visual arts in order for students to gain an exposure to the range of uses of photography in visual industries.
Technology and Applied Studies (TAS)
TECHNOLOGICAL AND APPLIED STUDIES AS SKILLS TO SUCCEED
Agriculture, Design & Technology, Food Technology, Industrial Technology, Information Technology, Textiles & Design, iSTEM and P-TECH
The aim of the TAS Department here at Penola Catholic College is to develop students' ability to design, produce and evaluate quality solutions that respond to identified opportunities and needs. We aim to enable students to responsibly, safely and creatively use and select materials, tools and techniques to produce quality goods and solutions to identified problems and opportunities.
STAGE 4 (YEARS 7 AND 8)
Within Mandatory Technology our students produce goods for specific design needs. Our aim is to teach skills that can be developed through their life. They work collaboratively with others to achieve individual and collective goals in the design and production of products in the areas of Engineering, Digital Technologies (coding and control systems), Food and Fibre (Agriculture, Textiles and Food) and Materials Technology (Timber, Plastic and Mixed Materials).
STAGE 5 (YEARS 9 AND 10)
Students can choose from a wide variety of electives such as Agriculture, Food, Textiles and Design, Industrial Timber, and iSTEM. Students will learn to meet the requirements of an identified need through a design brief and work through the design process where they are able to express themselves creatively in the design, portfolio and product development. These technologies seek to raise students' awareness of the interaction between technology, industry, society and the environment.
STAGE 6 (YEARS 11 AND 12)
Students can continue with their Stage 5 Technology elective or chose another technology offered here at Penola, including Agriculture, Design and Technology, Food Technology, Industrial Technology Timber, Textiles and Design, Software Design and Development, Information Processes and Technology and Industrial Technology Multimedia. They offer students the opportunity to study the interrelationships of technologies, equipment and materials used by industry and develop skills through the process of design, planning and production in readiness for the workplace.
Vocational Education and Training (VET)
VOCATIONAL EDUCATION AND TRAINING AS ENTERPRISE SKILL DEVELOPMENT
Business Services, Construction, Entertainment, Retail Services, Hospitality, Primary Industries and Industrial Technology and Digital Media
Vocational Education and Training (VET) courses are offered as part of the Higher School Certificate. They enable students to study courses that are relevant to industry needs and have clear links to post-school destinations.
These courses provide school and TAFE delivered, approved training along with the opportunity to sit for an HSC exam in the subjects and have them count towards an ATAR. At Penola Catholic College, access to the following VET courses can be offered:
Business Services
Construction
Entertainment
Hospitality
Information and Digital Technology (P-TECH Elective)
Primary Industries
Retail Services
VET courses provide students the advantage of achieving dual accreditation while at high school. Firstly they achieve the HSC, and also an Australian Qualifications Framework Certificate II or III credential in their selected VET course (eg. Certificate II Hospitality).
These credentials and their experiences during work placement sessions often lead to part-time employment, apprenticeships and a pathway into further study for these trade and service industries post high school.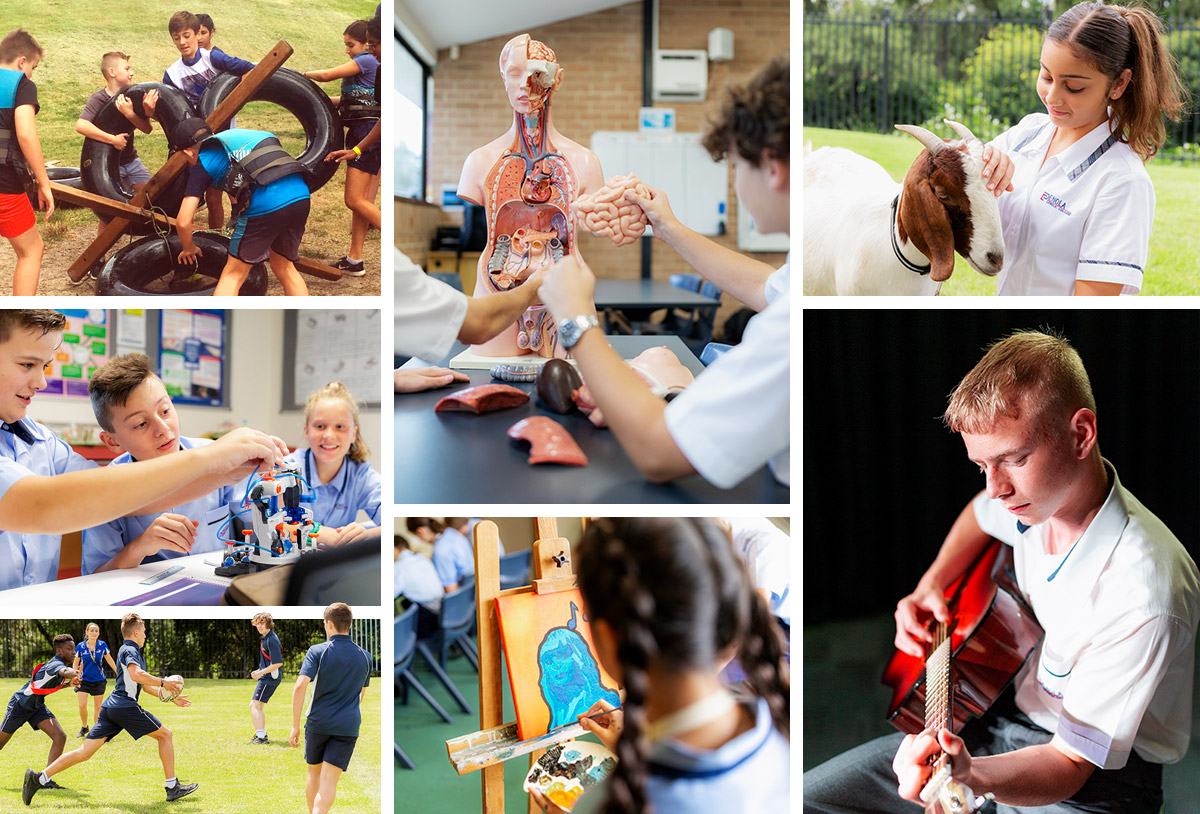 School of Now
The innovative Catholic Schools Parramatta Diocese School of Now program offers a unique learning experience for Year 11 and 12 students in a contemporary hybrid setting. This modern-day approach provides senior students with access to a greater range of extension courses and specialised electives that may not be offered at our school, helping them to achieve their personal career and study goals.
The blended learning format using both virtual and face-to-face teaching methods optimises students' learning experience with support from expert HSC teachers with specialist knowledge.
We offer a varied curriculum that is engaging and relevant!
Contact Penola TODAY to learn more about our innovative learning community.